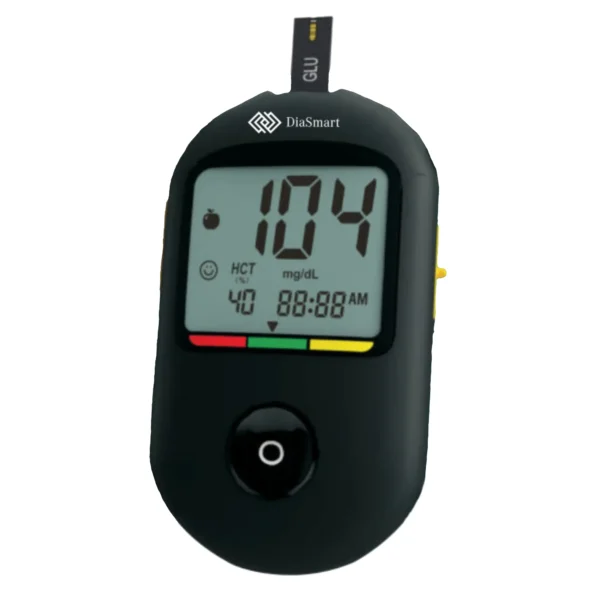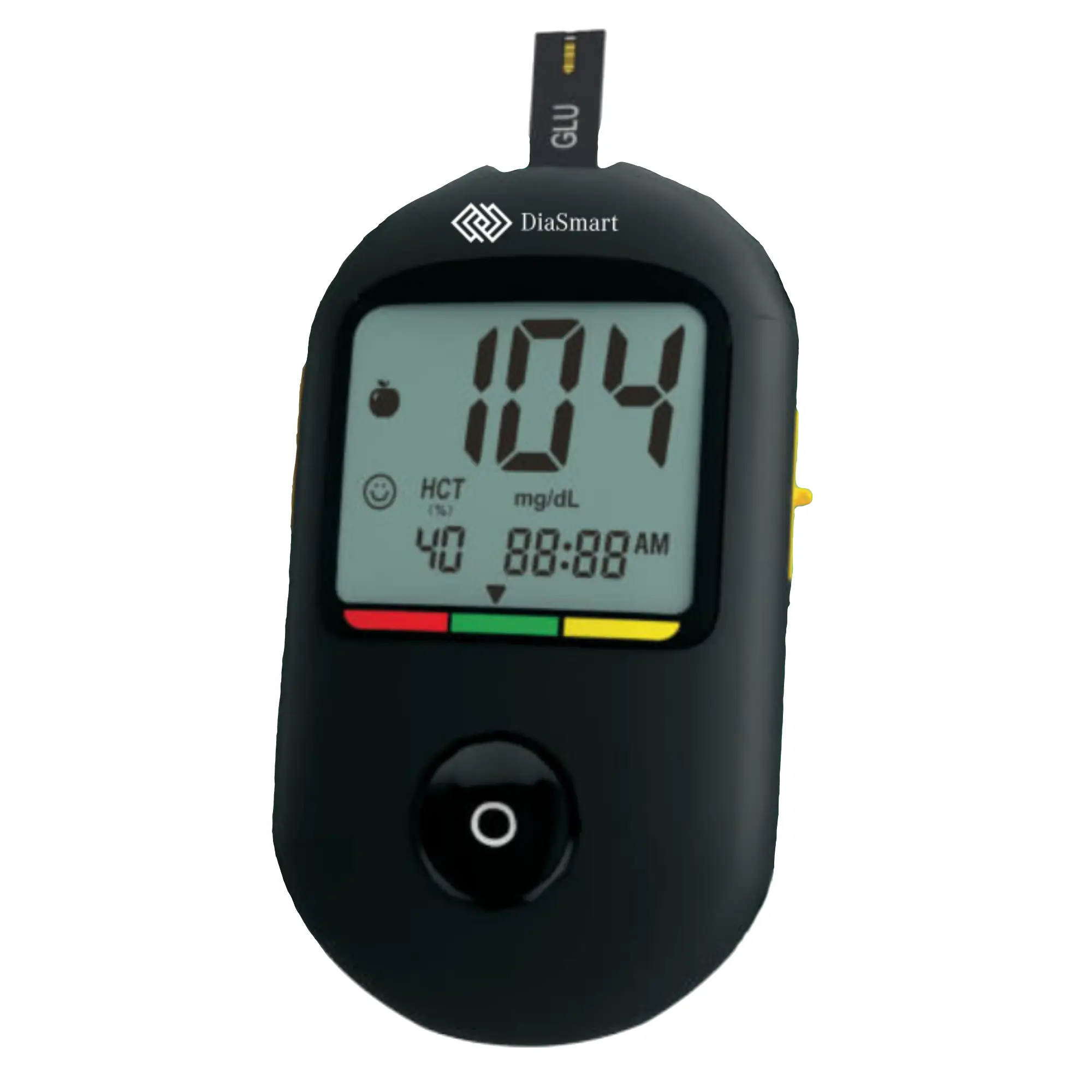 Blood Glucose Meter Dia-Smart – Starter Set
8,90 €
Includes:
1 blood glucose meter

1 lancing device

10 blood sugar strips
10 lancets
2 batteries
Description
Do you want a reliable and user-friendly blood glucose meter? Get to know the DiaSmart blood glucose monitoring system.
The DiaSmart blood glucose meter is the ideal solution for accurate and convenient glucose level measurements. In our DiaSmart Starter Set for just €24.95 you get everything you need for reliable blood sugar measurement:
– 1 blood glucose meter
– 1 lancing device
– 10 blood sugar strips
– 10 lancets
– 2 batteries
Why should you choose DiaSmart blood glucose meter?
Quick results:
Measure your blood sugar in just 5 seconds.
Minimal blood sample:
Only 0.6 microliters of blood is required to achieve a comfortable and less invasive test result.
Bluetooth wireless connectivity:
Wirelessly transmit your test results to compatible devices and use health management apps for easy data tracking and analysis. You can also enter the data into various health management apps.
Comprehensive storage:
Store up to 1000 date and time stamped test results, facilitating long-term monitoring and analysis.
Intelligent averaging:
Get 7-, 14-, and 28-day averages to get a comprehensive view of your glucose level patterns over time.
High accuracy:
Certified according to EN ISO 15197:2015 for reliable and precise blood sugar level determinations.
User-friendly design:
The device is compact and easy to use, making it practical for everyday use.
Complete blood glucose meter kit:
The DiaSmart comes with a blood glucose meter device (including 2 AAA batteries), 10 test strips, a lancing device, 10 lancets, an instruction manual, a quick start guide and a logbook for comprehensive documentation.
Display backlight:
The easy-to-read backlit screen allows for convenient use in different lighting conditions.
Area display:
Visual indicators help interpret glucose levels outside predetermined target ranges.
No coding required:
Manual coding of the test strips is no longer necessary and the testing process is simplified.
HCT measurement:
Measuring the hematocrit level along with the glucose value increases the accuracy of the readings.
High quality standards:
The device is manufactured by Hangzhou Sejoy Electronics & Instruments Co., Ltd. manufactured by a trusted company known for its commitment to quality and innovation.
Easy data management:
The device allows for effortless organization and review of test results, supporting effective diabetes management.
Trust the DiaSmart blood glucose monitoring system to take control of your health. Order your DiaSmart Starter Set today at audamed.com and experience the precision and user-friendliness of our product. Optimal for your diabetes management.